Coolers
Here's how to get 3 YEARS FREE COOLER RENTAL GUARANTEED!
The average cost of a cooler rental is $12.00 plus taxes per month without a hot tap. Some of our competitors will offer a used cooler with a hot tap for the same price. There coolers often stay in place well over 7 - 10 years! That's around $1,440.00 over 10 years! Plus taxes.Since renting is so profitable, our competitors will place their cooler pricing for purchase way above a couple years rent. Thus, they discourage people from owning their own cooler and saving the cost of rental. It's like renting a car. Sure you get a car for now, but the cost is so much higher long term. You end up paying off the cooler for our competitor, but it is STILL THEIR COOLER!
At Nothing But Water we've devised a more cost-effective and controlled spending solution. We've worked hard to find the best cooler quality at the lowest prices for our customers. It's not about popularity. It's about cost. Water coolers shouldn't cost you $144.00 a year plus tax. What we have done is made it so you can purchase a cooler with a 5 Year warranty, and a hot and cold tap, for less than 2 years worth of rent! With these new "Energy Star" stamped coolers, you get the benefit of a LONG TERM cooler ( Average expected well over 10 years) and you don't have to pay long term.
5 years guaranteed by the manufacturer is solid protection. Now you can enjoy a high quality cooler at a low, predictable cost.
If there is a need for you to rent short term, we can assist for a low cost as well.
Even with the great price we offer, there is more savings from using our line of coolers. The energy efficiency of these coolers allows them to pay for themselves with electicity savings. Over the life of your cooler you will pay for 2 coolers by just the hydro savings.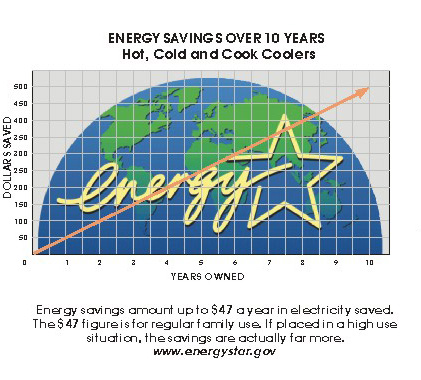 An added bonus is your choice of colour! It's no longer a standard white box for a water cooler. Now you can get a snazzy black cooler at no extra charge! Perfect for Salons, Dealerships, Offices, and even newly renovated Kitchens! Something that won't be an eyesore or clash with your designs.
Also, most of our coolers can be easily converted into an in-house Reverse Osmosis self fill bottleless system. Many people don't want to or can't make the investment now to replace the cooler bottles with a office or home system. But in the future if you ever wanted this you can use these coolers with that system as well! These coolers fit all standard sizes of bottle necks, and can be converted with a kit in the future for free with a system purchase.
WE DELIVER FOR FREE! We deliver your cooler at no extra cost after your purchase. We will even take it out of the box, place it where you want it, and put some water on it for you. All you have to do is purchase, point, and drink! We will show you how to maintain it , clean it, and care for it. Not something your major chains will do!
With the growing environmental concerns and costs, many offices are replacing the "disposable cone cup" mentality. If your cooler is in a "Staff only" location, it would be more cost effective to encourage employees to use a glass then to use 10 cone cups a day. Though, if you would like to have a cup dispenser we can have it installed on your cooler when your cooler is delivered.
Our coolers have one of the fastest flow rates in the industry. It shouldn't take as long to fill up the kettle as it does to boil it. These coolers let water out so you can fill you glass much faster if desired. It's a simple thing, but when 10 people all go for the cooler at once, it makes a big difference. As well our high quality cooling system allows much faster cooling. So you can get more use out of your cooler for less money. If 10 people did go to the water cooler one after the other, the last few won't get warm water. The cooling tank is also very large. Allowing for more water to be stored and ready for use.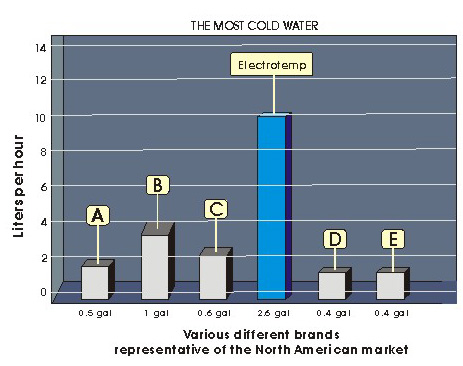 Here are some examples of other coolers we carry. All are covered with the same 5 year warranty offered on the coolers above. If you see something you like, email us for a price quote. If you are a new water customer, please inform us of your municipal location for a water delivery or Reverse Osmosis system install price as well. If you currently have a Reverse Osmosis system and would like to connect your new cooler to it, there is a small charge for the labour.

White Covered Cooler